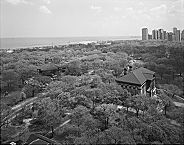 Lincoln Park, also designated as Community Area 7, is one of the North side community areas of Chicago, Illinois in the United States. Named after Lincoln Park, a vast stretch of park belonging to the Chicago Park District, the community area is anchored by the Lincoln Park Zoo and DePaul University. Lincoln Park is bordered by the community areas of Lakeview and North Center to the north, Logan Square and West Town to the west, and Near North to the south.
The area now known as Lincoln Park in Chicago was still primarily forest with stretches of grassland and occasional quicksand, and was virtually untouched by Europeans as late as the 1820s.
In 1824 the United States Army built a small post near today's Clybourn and Armitage Avenues. Indian settlements existed along Green Bay Trail, now called Clark Street (named after explorer George Rogers Clark), at the current intersection of Halsted Street and Fullerton Avenue.
In 1836, land from North to Fullerton and from the lake to Halsted was inexpensive, costing $150 per acre ($0.04 m²). Because the area was considered remote, a small pox hospital and the city cemetery were located in Lincoln Park until the 1860s.
In 1837 Chicago was incorporated as a city, and North Avenue was established as its northern boundary. Settlements increased along Green Bay Trail when (1) the government offered land claims and (2) Green Bay Road was widened.
In the period following the Civil War, the area around St. Josaphat's parish around Southport and Clybourn was home to Chicago's Cassubian community, who although Polish in national orientation, possess their own distinct culture and language marked by the distinct influences of their maritime way of life as well as their German neighbors.